David Bowlin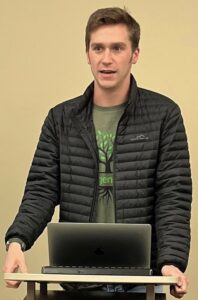 I'm David Bowlin. I grew up in Greeneville, Tennessee, and have plans to work in vocational Christian ministry. When I realized Tusculum had a communication program, I was super excited! It wasn't exactly sure what I expected, though. I simply thought I was going to learn how to speak better, give better speeches. It turns out, the program had many more benefits than expected!
Not only did I learn some practical tools and practice for verbally communicating, giving speeches, being interviewed and more, but I also learned how communication works best in organizations, public relations, value/mission statements and so much more! All this happened in a smaller context, where I got to interact with classmates and work directly with my teachers, which is way more than I would have received from a larger university context!
If you are interested in helping organizations in efficient and effective communication and sharpening your personal verbal (and nonverbal) communication, I strongly encourage the communication program at Tusculum University!