Tusculum University's art and design program builds a specialized foundation for creative careers in traditional and digital media. Strong design and communication skills are in high demand in the majority of today's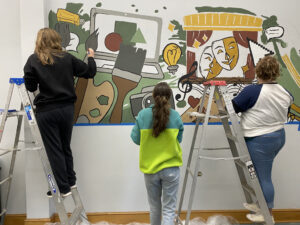 industries. By implementing an active and experiential curriculum, designed by multiple subject matter experts and rooted in civic engagement, our students gain practical experience and begin the portfolio-building process as early as their first year in the program.
We take an immersive, project-learning approach that supports global citizenry, collaboration and innovation. Students develop their own personal brands and learn the newest creative techniques and technology while working alongside community leadership and industry partners to form strong ties, values and ethics. Our curriculum builds conceptual and technical skill sets necessary in our rapidly evolving world.
In our classrooms, in our media lab and throughout the community, we provide students with exceptional, unique, individualized opportunities in their areas of interest to gain hands-on experience that prepares them to be career-ready professionals. Our faculty bring industry experience from multiple backgrounds into the classroom, ranging from network television production and major professional sports leagues to corporate marketing and entrepreneurship.
The structure of the art and design program provides more concentrated training based upon their specific area of interest within the broad field of art and design. During their four years at Tusculum University, students in the art and design program build a strong base of knowledge necessary for work in their chosen area or as a precursor to graduate school.
If you want to learn more about what opportunities a degree in art and design can do for you, we encourage you to schedule an appointment and speak with one of our faculty experts.
For more information regarding course requirements, visit our
catalog
.