Tusculum University provides a caring Christian environment for everyone on campus. We are proud of our strong Presbyterian heritage and committed to helping students grow not only academically but also spiritually.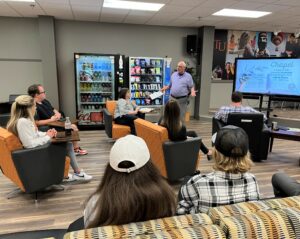 In addition to voluntary weekly chapel services and campus organizations like Fellowship of Christian Athletes and Breaking Bread, we also host periodic presentations, worship nights and other events to encourage spiritual development.
We welcome opportunities to partner with area churches and provide opportunities for them to minister on our campus. Churches "adopt" our athletic teams and support them throughout their season and beyond. Many churches come to help our new students on move-in day. A few churches even host regular worship services and Bible studies on campus. 
If you would like to make a financial donation for campus ministries at Tusculum, click the orange GIVE button at the top of the page and select 'Campus Ministries' from the drop down menu.