2022-23 SGA President
I am a Senior graduating with two bachelor's degrees in business administration (Accounting Concentration) and Criminal Justice. I served Tusculum University as the 2022-2023 student government president, as the student leader for the Tusculum chapter of the Bonner Leader Program, and as the assistant site coordinator for the Volunteer Income Tax Assistance Program at Tusculum. I am also a member of the Alpha Chi honor society, Tusculum Honors Program, and earned the rank of Eagle Scout in 2018.
Even though I do not live on campus and cannot speak on behalf the dormitories themselves, I can personally attest that student spaces are an important factor for student development. In my case, that particular space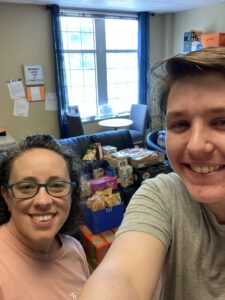 for me was the Center for Civic Advancement or the CCA (Niswonger 401). This space has furniture, a fridge, a microwave, comfortable chairs, and a large conference table along with other features (my favorite being the snack machines).
Starting as a freshman, I spent a lot of time in this space as part of the Bonner Leader Program. The CCA office provided a place for us to socialize with other students, do homework together, hold meetings, and organize other social activities (we watched movies, played board games, and had lunches in this room). I would argue that this space played a crucial role in drawing me to the campus and developing relationships with my peers, because, being a commuter, I would not have likely stayed on campus for anything other than classes if I had not had access to a space like this. The CCA office is specifically a space for work-studies and Bonner Leaders, however, in 2022 we started moving in this direction of making more accessible student spaces for everyone which led to the addition of the Pioneer Perk which includes a pool table, table tennis, furniture, and vending machines.
Every day I go through Niswonger and see a group of students utilizing that space by playing games or studying – getting that same experience that I did in the CCA. Even though I do not live on campus, I can whole-heartedly attest that investment in these kinds of spaces and amenities is an important part of fostering the development of student relationships. I do not think that I would be where I am without it. A dorm refresh would allow students to have these spaces within the lobbies of the dorms they live in. I fully support and stand behind this campaign.