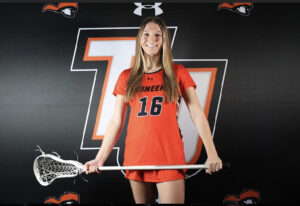 I am junior at Tusculum University. I play lacrosse and am majoring in special education. Special education has always held a special place in my heart, and Tusculum has made it so easy to pursue this passion of mine.
 Tusculum's College of Education has provided such a great experience for me. I have never met a group of people who are so dedicated to making a difference. Each professor is committed to providing their students with the best education possible and strives to help them in any way possible. Each professor in the College of Education displays an exemplary level of kindness, patience and genuine care towards each student.
  This program has provided me the opportunity to learn at a pace I understand and ask all the questions I need. This program provides students with a high understanding of material through the implications of feedback, projects and critical tasks. One of my favorite things about this program is the interaction. Each course gives the students the opportunity to participate in activities, new opportunities and events, and discussions.
 Whether it be working in a physical classroom or simply providing feedback to your peers on a discussion board, I feel like this program is truly preparing me to be a grand special education teacher and making me the best version of myself. This program is preparing me to walk into the classroom with a high level of understanding of expectations, confidence and knowledge to teach effectively. My goal is to carry the qualities and knowledge that this program has provided into my personal classroom.