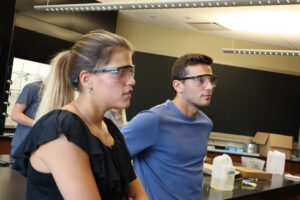 Tusculum University is an institution built around community. Being an international student, I spent five years studying at Tusculum, and in that time, I found my second family. I found community in my fellow peers, my professors, the tennis team, the athletic department, the chemistry program, external clubs and societies and the Greeneville community
The smaller nature of TU and smaller class sizes allowed for strong relationships to be built between peers in addition to strong relationships with fellow professors; that were key in my growth as a student and helped shape and guide my current pursuit of a Ph.D. in Chemistry at the University of North Carolina.
The chemistry program's offerings
The chemistry program at Tusculum exposes students to a variety of subject matter ranging from organic, inorganic, analytical, instrumental, physical and environmental chemistry, providing the necessary tools to tackle both a job in industry and graduate school education. In addition to this, the program founded an academic research program, initially working on the development of novel hydrogen evolution catalysts for solar energy applications and then transitioning to the development of new ruthenium photodynamic chemotherapeutics.
Participating in academic research provided several opportunities to travel to scientific conferences, build and establish connections in the scientific community and present our research to other institutions in the area, and at the TU's own research conference. This helped build key presentation skills by being able to present our research to individuals in and out of the scientific community, all necessary skills for both graduate school and working in industry.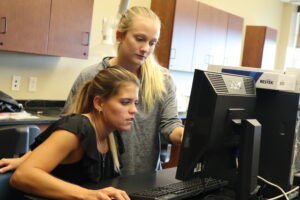 Opportunities at Tusculum
Close relationships built with faculty presented an opportunity to work for a small start-up centered on Tusculum's campus, Ionic Water Technologies LLC, which was focusing on the development of innovative water purification and large desalination technologies. Through these research experiences, students become more independent thinkers, learn how acknowledge problems and implement practical solutions to these problems in the process of scientific research.
Beyond the bench, there are also several mentorship opportunities that students can seek out. For example, they can be a student tutor, a mentor for incoming students entering the research program or lab teaching assistants. Each of these mentorship roles provides invaluable experience learning how to work alongside others in a collaborative manner and assisting younger students. These are key skills that can be utilised in any career path, whether it be scientific or not.
The chemistry's program's strengths
The chemistry program provides students with a strong, well-structured breadth of material, builds connections in the scientific community and provides opportunities to pursue academic research giving students a taste of what a Ph.D. program would be like. This is in addition to opportunities or future opportunities to work in an industry setting.
These opportunities would not be possible without the strength of the professors in the chemistry program at Tusculum. Ultimately their continued desire is to see their students succeed and provide them with as many opportunities as possible to make them career-ready when they graduate, no matter what path they may choose – graduate school, academia, industry, teaching or something entirely different.