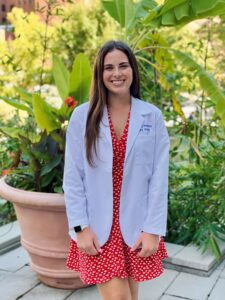 I attended Tusculum University from August 2017–December 2020. Upon starting my education, I was a business administration major and quickly changed after realizing it was not the right choice. After meeting with my advisor, Dr. Dennis Ashford, I was hopeful for my next journey as I started on my path to pharmacy school.
Many courses, such as general chemistry, organic and inorganic chemistry, physical chemistry, and analytical chemistry, allowed me to find my passion again and prepared me well for obtaining my Pharm.D. Although I completed portions of my school throughout COVID, I would not say that my learning had been affected. Attending such a close-knit school as Tusculum allowed me to form great relationships with the faculty and advance my understanding throughout the circumstances.
Now that I am enrolled in the College of Pharmacy at the Medical University of South Carolina, I can proudly say that the chemistry program at Tusculum enabled me to get there. Lab courses prepared me for compounding medications anywhere from capsules and tablets to gummy bears and suppositories. Acid/base chemistries lessons have prepared me to understand the underlying causes of metabolic acidosis and alkalosis and what medications are proper in treating them based on their mechanisms of action. Dimensional analysis calculations prepared me to calculate the correct dosing in an IV medication for prepping a sterile compound.
Currently, I am working at MUSC Shawn Jenkins Children's Hospital in Charleston, South Carolina, and after completing my hospital rotation, I want to pursue a career as a clinical pharmacist. Something I learned about pharmacy is the number of opportunities in this career path. I am proud to say that I received my Bachelor of Science at Tusculum University. It has set me up for success, as I am halfway through my education in receiving my pharmacy doctorate.