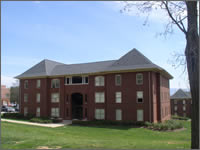 Construction of 4 residence halls was completed in summer 2002. In 2013, two new apartment-style residence halls were completed.
The 6 residence halls, known collectively as "The Apartments" are 3 stories tall and have room to house 56 students.
Housing accommodations in the apartments include a living room, a 'mini-kitchen" featuring a sink, refrigerator, 4 private bedrooms, and 2 bathrooms. Washer and dryer units are also included in each apartment.
There are 4 apartment units on each floor, each unit having 5 residents. Each building has 56 residents. The exterior of the buildings are brick and are compatible with the classic turn-of-the-century architecture in some of the campus's historic buildings, including Welty-Craig, Virginia, and McCormick Halls.
In 2003, the building known as apartment "A" was named Mastrapasqua Hall in honor of Dr. Frank Mastrapasqua. The remaining apartments simply remain "B", "C", "D", "E" and "F".